If you come to Greece expecting one thing, you are going to be surprised. From breathtaking vistas of the Acropolis in Greece's ancient capital city Athens, to the beaches and quaint fishing villages of the Aegean and Ionian islands, to the Byzantine-influenced historic sites and hip, contemporary culture of Thessaloniki in the north, Greece is a land of enchanting diversity, with something for everyone, no matter what their interests or budget.

Greece is famous as the cradle of Western civilization. Following the successful defense of their homeland against the Persians at Marathon and Salamis in the 5th century BC, Athens rose as a superpower among Greek city-states, introducing a system of government called democracy that has become a prototype for governance in our modern world. During the so-called Classical Era, Greece produced cultural, philosophical, architectural and scientific achievements through the teachings of Socrates, Plato, Aristotle, Pythagoras and Hippocrates, and the dramas of Sophocles, Aeschylus and Euripides, that continue to be relevant in the 21st century. Greece became the gateway for a thriving commercial culture that included the entire eastern Mediterranean as well as southwest Asia.

But the Roman annexation of the free Greek city-states into their Empire presaged almost 2000 years of foreign subjugation, first by the Romans, than by the Byzantine Empire, and finally by the Ottoman Turks and the Italian city-states of Genoa and Venice. Greece did not achieve independence again until 1829. Greece was again invaded by a foreign power, Germany, once again during World War II.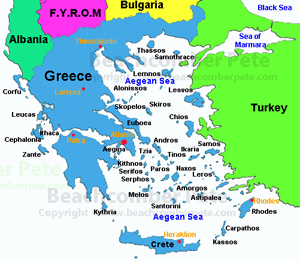 Greek tourism began to flourish in the 1960's and 1970's. Today, Greece attracts close to 20 million visitors a year, most of them from other countries in the European Union.

Classical Greek culture, of course, is one of the very foundations of European civilization, and many travelers come to Greece to better acquaint themselves with it. The United Nations has included 17 Greek monuments on its list of World Heritage sites. Among them, of course, are Athens Acropolis with its quartet of ancient architectural masterpieces, The Parthenon, The Propylaea, The Erecchtheum and the Temple of Athena. The most perfectly preserved temple in all of Greece, however, is to be found in the wilder landscape south of Olympus, at the Temple of Apollo Epikourios on the slopes of Kotylion Mountain in Bassae.

Antiquities are not Greece's only allure. Life on its many islands is famously relaxing and slow-paced. The most picturesque of the Greek isles? Santorini, where whitewashed villages nestle above dramatic volcanic cliffs overlooking the azure Aegean. Crete is Greece's largest island, renowned as much for its splendid beaches and mountain climbing as it is for its archaeological treasures. Mediterranean Corfu has more of a Riviera flavor; its sunny countryside abounds with lush vegetation, while its capital, Corfu City, is filled with Byzantine churches, French facades and sunny, Italian-style piazzas.

One of Greece's most recently discovered tourist attractions is Chalkidiki in northern Greece where sun, sea and golden-sand beaches compete with Paleolithic site and medieval monasteries as must-see attractions.