Emilia Romagna, Italy is a region located in the northern portion of the country. Emilia Romagna has a population of just above 4.4 million people. The entire region and its capital city, Bologna, are some of the most wealthiest areas found in Europe. Lamborghini, Maserati and Ferrari, which are three of the most expensive European cars brands are all manufactured in the Emilia Romagna region. The two cities in the Emilia Romagna region that every traveler must see are Bologna and Parma. They both feature some of the most amazing Renaissance architecture found in the world.

Bologna is the capital of the Emilia Romagna region and features a population of just over 380,000 people. There are hundreds of great things to see while you are in Bologna, but the best sights are San Petronio Basilica and Bologna Cathedral. Along with these two amazing sights, there are also several great musical festivals that occur in the city throughout the year. If one of these festivals is occurring during your trip to Bologna, they are also a must see.The San Petronio Basilica is the 5th largest church in the world and can hold up to 28,000 people at one time. Along with being one of the largest churches in the world. San Petronio Basilica is also an amazing piece of architecture both inside and outside. The interior of the church feature hand painted walls and some of the most beautiful stained glass windows found in any church. The other great sight in Bologna is the Bologna Cathedral. The Cathedral dates back to the 1600s and is dedicated to Saint Peter. Just like the San Petronio Basilica, the Bologna Cathedral is one of the best looking churches around. The interior features a very baroque style and has paintings created by major Italian painters including Alfonso Lombardi and Cesare Mauro Trebbi.

Parma is another great city in the Emilia Romagna region of north Italy and features a population of just above 187,000 people. The entire city features picturesque architecture that includes several amazing churches and other buildings. While the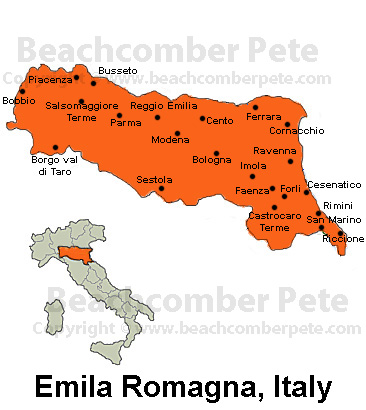 entire city is worth seeing for the landscape, the main attraction that you must see while in Parma is the Museo Glauco Lombardi.
The Museo Glauco Lombardi is an art museum that was created by Glauco Lombardi, who spent his entire life collecting and preserving great pieces of art. After his death, they decided to build a museum to display all of the great pieces of art that he had collected through the years. Most of the artwork in the collections are from various artists that working in the Parma area during the life of Glauco Lombardi. The museum is one of the rare cases that you can see the entire history of a city throughout the years through the artwork that was made in the city.
Emilia Romagna, Italy By City

Bobbio

Busseto

Casa Cornacchio

Cento

Cesenatico

Faenza

Ferrara

Forli

Imola

Modena

Piacenza

Ravenna

Reggio Emilia

Riccione

Salsomaggiore Terme

San Marino

Sestola