El Salvador is situated on the Pacific coast of

Central America

with

Guatemala

to the west and

Honduras

to the north and east. It is the smallest of the Central American countries and is the only one without an Atlantic coastline. Most of the country sits on a fertile volcanic plateau about 2,000 ft (607 meters) high. The coordinates for El Salvador are 13º 50 N, 88º 55 W.
Today the population of El Salvador is just over 7 million people. San Salvador is the capital of El Salvador, as well as the country's largest city with with well over 2 million people.
El Salvador is slightly smaller than the state of Massachusetts and is divided into three distinct geographic locations which are separated by the country's mountains.
The first region is the southern coastal plains. The southern range of mountains is actually a scattered chain of more than twenty volcanoes. Some of the volcanoes are still active, but major eruptions are rare. Situated along the El Salvador and Guatemalan border are the volcanoes Izalco and Santa Ana, which at 2,365 meters is the highest point in El Salvador. Between the cones lie alluvial basins and rolling hills eroded from ash deposits. The volcanic soil is rich, and most of El Salvador's coffee is planted on these slopes.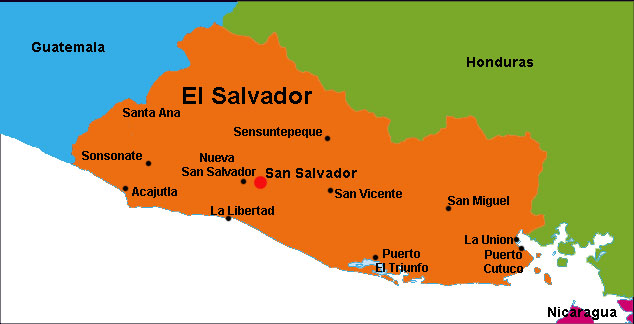 The second region is the central valleys or plateau. The central plateau constitutes only 25 percent of the land area but contains the heaviest concentration of population and the country's largest cities. Terrain here is rolling, with some occasional steep slopes, lava fields, and geysers.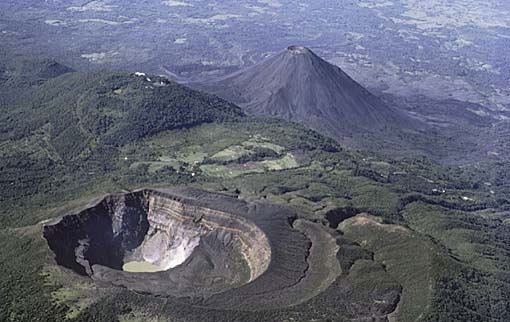 The third region is the plateaus and northern mountains. The northern range of mountains, the Sierra Madre, forms a continuous chain along the border with Honduras. Elevations in this region range from 1,600 to 2,200 meters. The area was once heavily forested, but over exploitation led to extensive erosion, and it has become partially barren. As a result, it is the country's most sparsely populated zone, with little farming or other development


El Salvador has a tropical climate with distinct wet and dry seasons. The rainy season (winter) is from May to October. The dry season (summer) is from November through April. Temperatures are based mostly on elevation and show little seasonal change in El Salvador. The Pacific lowlands are the hottest and most humid region while the Mountain areas are the coolest with minimum temperatures sometimes approaching freezing. It often snows in this mountain region.

The primary language of El Salvador is

Spanish

and is the official language of the country., followed by Nahua (among some Amerindians)

The official currency of El Salvador is the Colon; U.S. dollar. In January 2001, El Salvador saw the dollarization of its currency, that is, the adoption of the US dollar as the official currency in place of the colón, which technically still exists, but you'll probably never see one.

Airports: El Salvador's international airport, Comalapa International Airport is 44km (27miles) southeast of San Salvador.

Ports: Acajutla, Cutuco and Punta Gorda