Cordoba Argentina, heart and soul of the country is situated at the base of the great South American

Andes

along the mountain range known as Sierra Chica. Argentinas second largest city, Cordoba is the colonial capital of Cordoba Province. Located along the banks of the Sequia River, Cordoba is a very scenic and historical city located in what is known as the heartland of

Argentina

.

Founded in 1573 by Jeronimo Luis de Cabera, Cordoba became one of the first Spanish colonial capitals of the new territory that later became Argentina. A important resting point along the old colonial trade route between Lima Peru and the Atlantic Ocean, Cordoba lying in the fertile valley, the backdrop of some of South Americas most majestic portion of the Andes and with its nearly perfect year round weather was the ideal spot for the Jesuit Order to build the Universidad Nacional de Cordoba in 1613 which is Argentina's oldest University.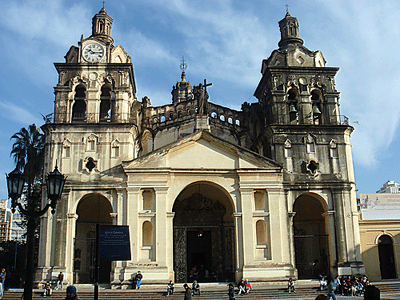 Nice weather and a region of lakes, rivers and valleys have made Cordoba an attractive place to visit. The city biggest draw is most likely the university. Students from all over Argentina as well as neighboring countries are attracted to Cordoba to study. Old churches, The Cabildo and the old town with its colonial heritage make for a perfect learning environment. Cordoba with its large student population, large tree lined parks and streets is an area active with coffee houses, bars, restaurants and book stores thus giving the city a very dynamic culture and social life. Drawn to the many language schools, tourist as well as students will find the city has many other activities. Historical museums such as Museo Historico Provincial Marque de Sobremonte, tango exhibits and art exhibits are just a few of the city's offering.

Cordoba rich in colonial heritage, has a modern look. Smaller than Buenos Aires the city has a more intimate feel, making friends with the locals and learning the language easier. A mixture of commerce and schools, Cordoba also has a growing importance in Argentina's automobile industry and an expanding tourist industry.

The surrounding region of Cordoba makes the city a perfect base for the many activities adventure travelers are seeking. Visiting the nearby Quebrada del Conorito National Park located in the Sierra de Cordoba Mountain range offer great weekend escapes for hiking, and nature trips. Mountain biking along the many trails as well as paragliding has drawn adventure seekers to the area.




Tallavera International Airport

has easy and numerous flights to

Buenos Aires

and cities throughout Argentina. Cordoba's newly finished bus station is more than just a place to catch a bus. Offering travelers banks, a pharmacy, a travel agency, first aid, day care, telephones, post office, shops and restaurants, the bus station is more like a airport terminal, a number of bus companies provide transportation to and from many Argentine cities. Getting around the city is easy with many buses, trolley buses, taxis providing transportation. Long-distance railway passenger service offered twice weekly overnight between Buenos Air and Cordoba is available as well as a once weekly overnight service northwest to Tucuman.

Cordoba's climate has been called Mediterranean, summer sees warm days and cool nights with high temperatures in the low 70's and winter bringing drier and colder days with temperatures dropping to mid to low 50's Cordoba has an annual rainfall of only around 20 inches.