The Cayman Islands are located about 500 miles due south of

Miami Beach

and 100 miles south of Cay Largo in

Cuba

. The Islands of

Grand Cayman

,

Cayman Brac

and

Little Cayman

are located in the Western

Caribbean

; the Cayman Islands are nothing more than coral outcrops that are part of an underwater mountain range, known as the Cayman Trench that extends from the south shore of

Cuba

westward towards

Belize

. Even though the Cayman Islands can not be found on most maps due to their small size, they do enjoy some of the most beautiful coastline in the world, over 100 miles of pristine white beaches.
Grand Cayman being the largest island is a mere 22 miles wide from East to West and 8 miles from the North to the South. The highest point of the island is found to be only 60 feet above the Caribbean. George Town is the capital of the Caymans and is located on Grand Cayman with a 19º 30N, 80º 30W lat/ long.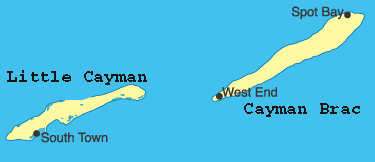 Cayman Brac located about 85 miles from the Eastern Shore of Grand Cayman runs about 11 miles long and about 1 mile wide, with the highest elevation being about 140 feet at Cayman Brac Bluff.
Little Cayman lies just to the north of Cayman Brac and is 10 miles long and has a width of 1 mile.
Most people consider Cayman Brac and Little Cayman as the "Sister Islands".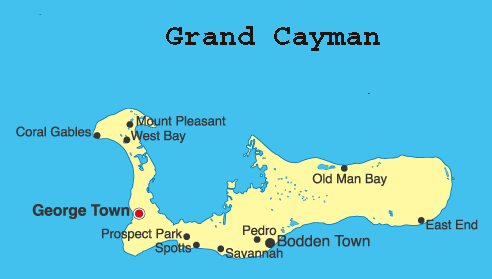 Years ago the economy of the Caymans was based on Turtle Farming, but in the 70"s that started to change and the country has moved to a Tourism and Banking Economy. Caymanians have an average income of around $42,000 because of this they find themselves with the highest standard of living in the Caribbean.

The largest part of the Caymans economy is derived from tourism, with nearly 75% of the GDP coming from tourists. Grand Cayman sees the largest percentage of tourists; almost 99%. George Town on Grand Cayman is also a major cruise ship port where they receive passengers in the neighborhood of 4,000 to 22,000 passengers a week.


Grand Cayman which many consider to have the finest beaches in the world is home to Seven Mile Beach. This beach is located on the western shore of Grand Cayman Island.

Scuba diving is considered some of the best in the world in the Caymans; crystal clear blue green waters make the islands a favorite among scuba divers. Snorkeling or swimming with stingrays is possible at Stingray City on the northern end of Grand Cayman. Scuba Divers flock to the Caymans from around the world to dive on the "Wall" or the two shipwrecks found off the shore of Cayman Brac.

Climate of the Caymans will be in the range of upper 70's during the winter months and in the mid to upper 80's during the summer months. The rainy season is usually afternoon showers during the months of May to October. The Caymans are far enough south that they usually miss much of the Atlantic Hurricane season. However, they were unlucky in September 2004 when Hurricane Ivan hit, causing quite a bit damage to the islands.

Population of the Caymans is about 45,000 people with around half being born in the Caymans and the other half being from about 100 different countries.

The Official Language of the Caymans is English due to the Caymans strong ties to Great Britain. One might hear a little Spanish from local people that have come from Central America or Cuba.

Currency of the Caymans is the Caymanian Dollar

Airport: Main International Airport is Grand Cayman Owen Robert's International (GCM)

Port: Main Cruise ship port is located in George Town