Believe it or not, Minnesota has over 12,000 lakes within its boundaries, not the oft quoted 10,000. That's not the only surprising thing about the state – Minnesota has so many things to see and do, you may wonder why you didn't go sooner! In addition to all of the outdoor activities that are offered, Minnesota also boasts the largest shopping mall in the United States. The Mall of America is so large that it contains roller coasters, an aquarium and a miniature golf course; all located indoors. This state has it all.
Whatever your pleasure, you can find it in Minnesota. There are wineries to tour, golf courses to conquer, amusement parks and zoos to enjoy, and all of the outdoor activities you can handle. The scenery and nature scapes in Minnesota are simply breathtaking, and you can experience them all. The mighty Mississippi River even begins it long, snaking journey through the country here. You can hike on wooded trails, ski or snowboard, go snowmobiling, boat on the many rivers and lakes, and see the many caves that abound throughout.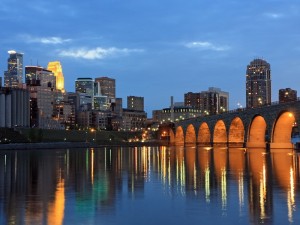 In addition to the fun to be had outside and in, Minnesota offers a unique cultural experience as well. Minneapolis and its twin city, St. Paul, are known far and wide for their fantastic theater. There are a large number of summer theaters that perform all over the state as well. Looking to see some museums while you visit? Minnesota has many of them as well, from the Science Museum of Minnesota in St. Paul to the Drugstore Museum in Saint Peter.
Still not enough things for you to do and see in the state? Here are a few more things that may draw you in. Austin, Minnesota has the free SPAM museum, with over 16,000 square feet dedicated to the caned meat. You can take a horse drawn carriage ride through downtown Minneapolis or visit the America Swedish Institute. The Stone Arch Bridge is a must see as it is the only known bridge of its kind, extending 2,100 feet and made of limestone and granite.
The official state tourism motto is "There's more to explore in Minnesota". That statement couldn't be closer to the truth. Take it from someone who has been several times and will keep going back for more; Minnesota has it all.