Kythnos is a Greek island, approximately 100 kilometers from Piraeus, the harbor city of Athens. Until recently, Kythnos has had few foreign visitors as many travelers opt for the more famous and popular Santorini, Crete, or Mykonos. However, with history going back to the Mesolithic Era, Kythnos has a wealth of rich culture.
The quaint village of Chora sits atop a hill as a stunning example of Greek architecture. With its white stone houses, modest churches, and narrow cobblestone streets, Chora is a gem to explore. Kythnos is well-known for its delicious capers, olive oil, and almond cookies in addition to the typical Greek seafood cuisine. Chora offers an abundance of restaurants to choose from, all serving fresh fish and seafood.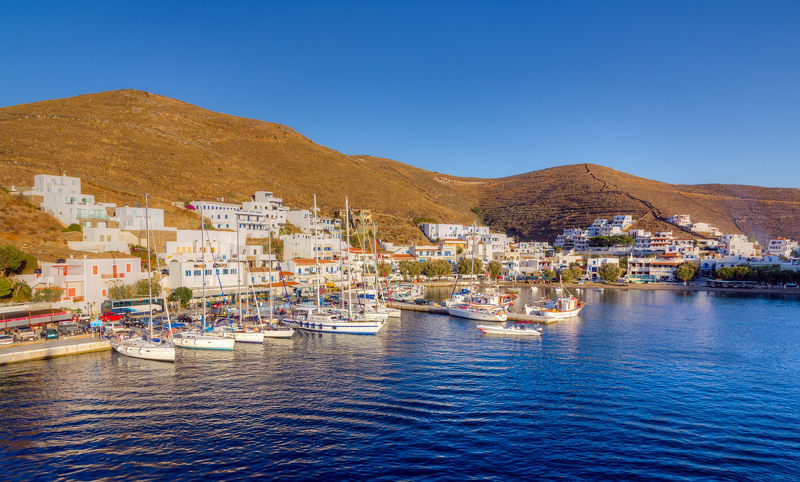 Outside of Chora is Loutra, a town famous for its hot springs, which some locals believe have healing water. Dryopida is another small town near Chora and is famous for the Kataphyki cave, one of the biggest caves in Greece. Dryopida is also home to the fascinating Folklore Museum of Kythnos.
Merichas, the island's main port, bustles with activity.  Hotels, restaurants, and coffee shops can be easily found along with luxury and entertainment. Despite being a port town, the surrounding waters are clear and blue, appropriate for both swimming and fishing. Merichas also has a vibrant nightlife with its bars and taverns. Vryokastro, the ancient capital of Kythnos, is very close by with ruins of Roman buildings, temples, and altars to explore. The church of Panagia Flambouriani is also worth a visit.
Kythnos has more than 50 beaches, though some are more difficult to reach than others. The best beaches to visit are Kolona, Apokrousi, Skylou, and Potamia. Each offers calm waves, white sand, and most of all, peace and quiet. Most beaches are accessible by scooter or foot. The most unconventional and adventurous way, however, is by parachute. Kolona, which is arguably Kythnos' most beautiful beach, is popular because it is a narrow strip of land with waves lapping on both sides. Kolona is reasonably close to Merichas, and the pleasant hike along the coast should not be missed. During the months of June to September, Kythnos is at its peak of perfect weather. Days are warm and sunny, making great visits to the secluded beaches.
Kythnos being just a short 100 miles from Athens, makes getting  to
Greece's
largest city from several
European
destinations a easy way to  find you enjoying that Greek vacation in no time.