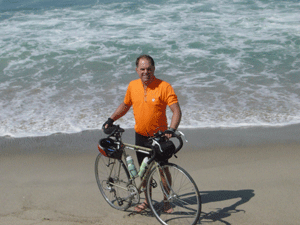 My name is Peter Hagemann, I have been traveling and exploring for most of my life, in August 2007 I rode my bicycle across the United States in 42 days thus starting my internet adventure and making my presence in the online world.
Growing up in the hills of Laguna Beach, California as a kid I always had the desire to find what was over the next hill, or around the next cove at the beach. Spending my summer days on some of southern California's most beautiful beaches, it was easy to become a beach person. I spent winter months building radio controlled gliders and flying them in the hills of Laguna or along the beachfront. My passion for flying and love for the beach opened up new adventures that continue for me today.
After moving to Orlando in 1975, my father transferred from Disneyland to new Disney World. I would try to make my way to the beach as often as I could. The beaches of Florida were just not the same as the beaches in Laguna Beach and throughout California; beautiful in their own way to me. Florida beaches were missing the rocky coastline and never-ending hills that would spill into the Atlantic Ocean. I thought there had to be better beaches around and there were. Only 60 miles off the Florida coast lie the island called the Bahamas.
Ok, so how was a 17 year old going to get to the Bahamas? I looked at sailing and thought this would be a great way to see the Bahamas and maybe the world. However, after some research I soon discovered sailing to be a bit expensive. As a 17 year old with no inhibitions and the world my open door, I looked at flying as a way to venture to beaches I wanted to see. I checked out flying lessons by taking advantage of an introductory flight and was hooked. Ten days later I soloed my first Cessna 152. After taking the required ground school, I managed to get my flying hours in and obtained my private pilot's license. I was ready to head for the Bahamas!
The following summer my best friend Steve and a fellow co-worker from Disney took our first flight to the Bahamas. Over the next few years, I made over 20 flights to the Bahamas. I made my way through several of the islands in the Bahamas taking friends and co-workers in search of the next perfect beach. It didn't take me very long to figure out that flying through beautiful blue skies and over crystal clear turquoise-blue waters that this might not be such a bad way to make a living and to see the world. Well, 33 years later here I am. A captain with American Airlines flying an amazing aircraft called a Boeing 777 and traveling to many parts of the world allowing me to see some amazing sights and beaches.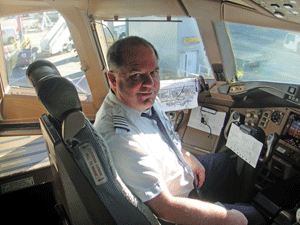 I took the name for my website "Beachcomber Pete" using the definition of Beachcomber from the dictionary:
Beachcomber: a person who spends time on a beach looking for lost or discarded items, natural specimens or treasures that are interesting.
That's me! Always searching for the perfect beach or adventure that would be more interesting than the one before.